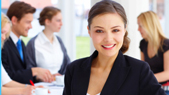 MESSAGE MANAGEMENT

VOICE MAIL—The Virtual Assistant is much more than just voice mail! It takes each message with date and time, and features:

Easy Call Return: It will store the Caller ID of the caller so you can easily return
the call.
Forward: It can forward all your voice messages to your email.
Permanent: It can permanently save your message for future use.

FAX MAIL—Just like voice mail, The Virtual Assistant will happily accept all your faxes and:

Forward: At your command, it can forward the fax to your fax machine or any fax machine in the world. It can also forward the message to your email.
Broadcast: It can broadcast the fax to a whole bunch of fax machines in the world.
Permanent: It can permanently save the fax for future use (perhaps for a fax broadcast or fax-ondemand).

EMAIL & NOTIFICATION — You have a pager? The Virtual Assistant will page you to let you know a voice, fax or email has arrived. Messages can also be sent to you as an attachment via email so that you listen to them via your computer. You'll be able to see the caller ID with each email message.

WWW — The Virtual Assistant is well equipped. From any browser connected to the Internet, you can access your voice mail, fax mail and email. You can administer your account, launch broadcasts, and review your call history and much more.